My opinion

: I'm very surprised that this hasn't been utilized before! I'm very glad that the University of Chicago Medicine is now able to teach with this, and I hope that other schools will soon follow. Not only is this an amazing tool for medical students (especially when there are large groups of them), but also for surgery in general. I feel like many surgeons may not be able to see well enough inside the body, and this could prevent them from making errors. Also, if the room is full of nurses and other surgical assistants who cannot all be around the body at the same time, this helps them to know what exactly is occurring. I know this might be most useful for eye surgery, as it can be very difficult to see the inside structure of an eye, but can't it be used for other types of surgery? Though other organs may be larger, I still think this would help residents and medical students across all specialties. Also, there are some reports that residents aren't learning as much now that they work for about 80 hours a week instead of 120 hours, like in the past. Perhaps this 3-D screen would help them learn at a faster pace. Feel free to comment.




Article

: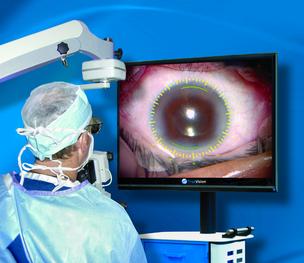 University of Chicago
Medicine is the first medical teaching institution in Illinois to adopt a TrueVision 3D surgical visualization system for opthalmology.
Seenu Hariprasad
,
Susan Ksiazek
and
Michael Saidel
are the first ophthalmologists at the school to use the system.
Hariprasad, an associate professor and chief of vitreoretinal service described the new system as a "breakthrough" in eye surgery technology. Explained Hariprasad: "The TrueVision system provides an unparalleled three-dimensional view that greatly enhances the ability of the observer to visualize and thus understand the relationship between the instruments and anatomic structures of the eye during surgery."
Added Saidel, an assistant professor and director of the corneal service: "I see a strong use for it in the operating room as well as a way to build our practices and residency training program for 3D surgery."
The new 3D system is a real-time stereoscopic, high-definition visualization system that attaches to microscopes to display the surgical field of view on 3D flat panel displays in the operation room. The new technology is used for microsurgery and to stream live video of the surgical field, making it a useful teaching tool.
University of Chicago Medicine has been a teaching institution since 1927. It is located in Hyde Park on the south side of Chicago, and includes a 1.2-million-square-foot Center for Care and Discovery. The medical campus also includes Comer Children's Hospital, the Duchossois Center for Advanced Medicine and the University of Chicago Pritzker School of Medicine.
From: http://www.bizjournals.com/chicago/news/2013/06/10/u-of-c-medicine-debuts-3d-eye-surgery.html