Emory performs first triple organ transplant in Georgia
By Janet Christenbury | Woodruff Health Sciences Center | Dec. 19, 2012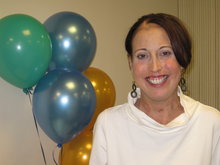 38-year-old Stephanie Lindstrom received a new heart, liver and kidney in July 2012. She is the first triple organ transplant to be performed in Georgia.
A 38-year-old mother of two is celebrating Christmas with a renewed spirit of hope and thankfulness this year. Just five months ago, Stephanie Lindstrom received a triple organ transplant at Emory University Hospital, the first triple organ transplant ever to be performed in the state of Georgia.
Following a lifetime battle of congenital heart complications, Lindstrom's condition turned critical this summer when she was told she would need more than a new heart; she would need a new liver and kidney, too. All other interventions to help her were not successful.
"A double transplant involving the heart and liver are extremely rare, with less than 60 of them ever performed in the U.S." says Stuart Knechtle, professor of surgery at Emory University School of Medicine and director of the Adult Liver Transplantation Program. "Because of Stephanie's heart failure, she developed liver failure. Then she became septic, which led to damage to kidney failure. So a triple organ transplant was our only hope to save her."
My opinion

:
I almost can't believe that it is possible to do this, although I think this is actually extremely important. All too often, the body reacts like a set of dominoes - one bad organ leads to the failure of even more organs, especially at old age. Though the article says that double transplants are rare, I'm not sure if it's because people don't usually need them or if it isn't possible to perform them. In order to increase our lifespans, however, I think doctors should focus on healing multiple issues at the same time. Feel free to comment.